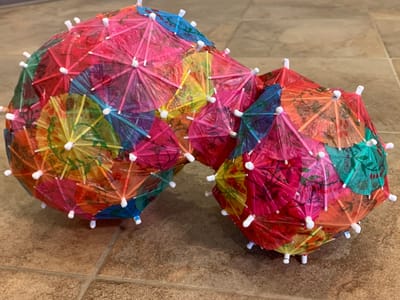 I sculpt organic forms with post-consumer materials in hand-worked methods that highlight the natural process of growth. A Virginia native, I grew up with two grandmothers who quilted, embroidered and cross-stitched. In my studio reclaimed, manufactured objects are cut, glued, sewn and wrapped together into organic form, and oftentimes multiples of those forms. The inherent history and associations of materials that are part of our everyday life add texture and depth to my work.
Work Harder! - Cort Savage
Studying studio art at Davidson College forced me to learn an encyclopedia of artists on the dreaded "List" and drove me to find artists who speak a visual language I understand more than actual words. Eva Hesse, Tony Cragg, and Martin Puryear all create quiet forms, formal and intense with meaning. As well, I adore artists whose response to minimalism was complicated and yet so simple: Kiki Smith, Agnes Martin, Bryce Marden all lodged in my visual vocabulary.
Most importantly was the influence of the sculpture professor, Cort Savage. His words on my first college sculpture paper, "Work Harder!" stung, but were so correct. His expectations were high, but tone soft and he taught me not only to find my voice in art, but to help others find theirs too—a cornerstone of my teaching philosophy.
There's magic in them there mountains—Jessie Sever
Between studying studio art at Davidson College and earning an MFA in Sculpture at Portland State University, I spent a year immersed in the forested mountains of Southwest Virginia living in a tent. Surrounded by folks passionate about the natural world, I too found a connection to the organic forms and rhythms of our Appalachian home. I met my husband there, an arborist whose natural habitat lies between the starry skies and crunchy leaves where fairies, gnomes and of course, the Sasquatch live.
A broader interest (and that's the central theme of the work) is the distinction between what is natural, or the world of nature and the man-made synthetic parts of the world. -- Tony Cragg
Graduate school at the urban Portland State University challenged everything I knew about life. My homogenous world become colorful, broad in age and a challenge to everything I did. As the youngest in the program and sole sculptor, I entered a world that demanded I defend my work and find sturdy legs and a confident voice. Even to the final exhibition, a local gallery demanded they not give me a degree.
I followed the materials around the city to the point just before they went to trash or recycling, and learned to beg, gather and glean for the manmade plastics and rubbers that constituted my forms. The residue of our lives reflects who we are as a culture.
Sculptures grew piece by piece from milk jugs, bike tubes, corks, plastic bags and teabags into organic, bulbous forms.
Sometimes the material leads to the idea, and sometimes the idea dictates the material. It's very interesting to me how an artist's mind works. In some cases, I'm very conscious that I didn't lead the sculptures, they led where they wanted me to go, as if they gave the solution. – Athena Tacha
Process and materials come together in my pieces that sometimes speak to environmental concerns and sometimes to social issues. Mostly abstract, these sculptures play on the tension between the organic world we inhabit and the plastic world we create. I build forms by adding pieces one by one to another, as cells in animals and plants cause them to grow. Listening to the materials, I hear their history and feel the way they want to attach and relate. My work is quiet. It connects the past ways of traditional women's work to current day materials and visions of the future.
Today I look out at the mountains from my home in Crozet. After bouncing up the I-95 corridor from Raleigh to Fredericksburg, I finally returned to the Appalachians in 2012. Teaching youth at Crozet Arts, creating sculpture, and biking with my husband and two teenagers fill my time.